In the tender held on July 9, Egypt purchased 240 KMT of wheat from Romania and Ukraine for delivery on August 10 – 20, 2019, at an average price of $213.92/MT C&F. The purchase price in the previous tender equaled $210.46/MT C&F, reports UkrAgroConsult.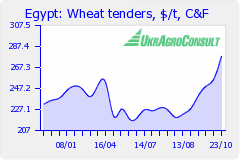 In the previous tender held on July 02, 2019, Egypt bought 60 KMT of milling wheat from Romania for August 2-12 delivery.
More detailed information on the latest trends in grain exports, supply and demand balances with breakdown by crop, price behavior, crop conditions and progress in harvesting/planting in the countries of Black Sea Region is available to subscribers for Online Analytics "Black Sea Grain" in the new innovative tool for agri market participants – AgriSupp.com by UkrAgroConsult. We offer 2-week trial! Completely free!
Share in social media: